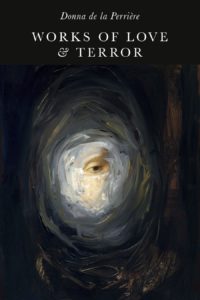 .
.
.

WORKS OF LOVE & TERROR
(Talisman House, 2019)
Perfect Paperback:  94 pages
ISBN:  978-1-58498-139-8
Available here or here

.
.
.

"In her best book yet, Donna de la Perrière gives us a poetry event for the ages… As the title promises, she runs the gamut from tender and lyrical poems of love and loss to the Dionysian madness of terror. The great setpiece here, 'First Love,' details the chilling life and afterlife of a rape as does no other poem I know, but there's much strong work here, from the sonorous, hollowed out écriture of 'I Am Trying to Say Fire,' to the noisy consonants and slurry vowels of 'Mock Trial' — sound orchestration like Lorine Niedecker at her best."  — Kevin Killian
"Some books leave you speechless, and some books never leave you. So it is with Donna de la Perrière's Works of Love & Terror. One senses how long and hard these words had to travel to form such spare, searing lyrics: clear-eyed, steadfast, unadorned missives from a body violated and exhausted, unforgiving of the unforgivable. At once abstract, filmic, and unflinchingly representational, this book is from 'a placid lake/called never' and is composed of lyrics disturbed from whence they came — a place of haunting mystery — could it be truth?… When there is joy, it is fleeting, cosmic, immense. This is the most necessary poetry we've had in a long, long time."  — Gillian Conoley
"In Works of Love & Terror, Donna de la Perrière traverses a landscape of bereavements. So often, loss threatens to overwhelm with silence, yet de la Perrière forges an eloquent disruption from rainfall and star debris. Hers is a lyricism charged 'like a river that fights its own bed.' Amid the threat that 'everything//is becoming/erased,' these poems contest nullity by listing presences — listing as though listening to what no ordinary ear can hear. The infestations of grief are everywhere apparent, but the poet's reckoning with time and mortality overturn the very limits she addresses in an act of consummate resistance: 'out of all//the abstraction, a flutter/of arrival.'"  — Elizabeth Robinson
"In Donna de la Perrière's sublime Works of Love & Terror, the reader is immersed in a close examination and rendering of the liminal… Poems capture 'irrevocable/choices against a backdrop/of catastrophe' and the magical mundane that is part of some of our darkest moments, the nuance of hospitals, blinking lights, cables, and anesthetized hallways. The angst of human connection is palpable and turned into prayer, helping us remember what is essential in our daily lives."  — M.K. Chavez
"Love and terror are twin actors which leave a host of (im)possibilities in their wake… These poems are light and news of the wreckage. They are the sacred shroud that marks both life and its aftermaths."  — Tonya Foster
•  •  •  •  •  •  •  •  •  •  •  •  •  •

.
.
.
SAINT ERASURE
(Talisman House, 2010)
Perfect Paperback:  71 pages
ISBN:  978-1-58498-076-6
Available here or here.
.
.
.

"In Saint Erasure, we may witness, with the leisure of true virtue, poetry's essential miracle. A little tap upon a windowpane becomes the paraclete. The curve of a cheekbone becomes eternal love, and memory an ocean. Here is a radiant palimpsest. Here is vision awash in vision itself." —Donald Revell
"Donna de la Perriere's consummately crafted lines extend the argument of postmodern lyric into a space of mystery." —Andrew Joron
"Anyone who still wants to view experimentation as a purely intellectual exercise will be convinced otherwise by Donna de la Perriere's exquisite second collection. Under the threat or promise of erasure and at the edge of silence, the poet deftly leads us through a shifting, minimalist landscape. Wrestling with change and stasis, with the resistance and sudden give of the real, she delicately monitors each stage of what feels like a pilgrimage, while defamiliarization pressures vision and makes each breath at once artful and endlessly brave. Saint Erasure saves us by exposing the beauty of our vulnerability: 'Welcome to the new body / tonight we lose everything.'" —Laura Mullen
"In Donna de la Perrière's luminous Saint Erasure, the parenthetical (and all that is either added or taken from its limber arms), regains its stature as Paraclete. In this moving book, absence is a measurement, a fact of duration, a sound in time, and reading I am immersed in that sound's mourning—for first self, for father, for Woman and the history of category that contains Her, as well as for the human body that each must relinquish. Here, physical law is what guides and though the poet, despite postmodernism's plethora of claims, is not a biologist, it is nonetheless in the recognition of the ultimate 'desertion' of physical life that Poetry, in the hands of a poet as wise as de la Perrière stakes its powerful claim: it helps us die."  —Claudia Keelan
•  •  •  •  •  •  •  •  •  •  •  •  •  •
.
.
.
TRUE CRIME 
(Talisman House, 2009)
Perfect Paperback:  74 pages
ISBN-13:  978-1584980636
Order here or here
.
.
.
"'[A] fierce throat and then nothing.' In a True Crime is anyone really innocent?  Donna de la Perriere doesn't think so. Her witness can never be absolved from culpability, can never escape her heritage, be it the ancestral ache of family or the social assault of dinner parties and public transportation. De la Perriere's landscape of corpses and misfits is trashy and sublime, outrageous and beautiful.  And frighteningly funny.  Is that a ghost or rodent that scratches behind the walls of the poem? Does it matter? The text/world fractures and light rushes in. This is a gorgeous and important book." —Dodie Bellamy
"It is thrilling to read True Crime. Haunted by history, it is a finely imagined ghost dance. But it's not simply the macabre that surfaces as the theme of these fine poems: it's the fragile line between life and death and how, through language, we negotiate the not-quite-here and not-quite-there, in this region of umber and desire.  There is danger too: mishap and accident, even murder. The reader is invited to witness these silent ceremonies, as they are enacted with beauty and precision.  Donna de la Perriere is a master of this realm. " —Maxine Chernoff 
"True Crime is a fitting title for this sympathetic and sometimes harrowing family portrait of the American South: the uncle who absconded with the insurance money, the boyfriend who cares more about his muscle car than his dead girlfriend.  The author and sometime subject of the poems spins from the loom of words "not the wreck but a conjectural / reconstruction of the wreck." In such a fragile, wobbling world, language acts as the only shield. This is a wonderful and brave book, offering the true fictions of our actual darkness." —Paul Hoover  
"Faulkner's barbed wire around the indecipherable South, 'You would have to be born there,' is cut down by Donna de la Perriere's poetry. One urgent line at a time is drawn like a blood sample: here is a poet of enormous and visionary talent." —Jane Miller